Shelters in Temagami:
Where neo-nomad can dwell in the midst of boreal forest in north-eastern Ontario
---

In the beginning (far far away from Temagami)


"When the Earth has been ravaged and the animals are dying, a tribe of people from all races, creeds and colours shall put their faith in deeds, not words, and make the land green again. They shall be known as Warriors of the Rainbow, protectors of the environment."
Native American prophecy
? Why ?
Frequently Asked Questions
---
Tipi at Obabika River

Very first nomadic structure.

Built in February 2003 in 2 days on Obabika river, cover was kindly provided by Alex Mathias (Misabi).

It could accomodate three people and their gear and stash of firewood inside.

Fireplace was in its center, a large smokehole above door entrance and spruce bows as bedding.

About 16 feet in diameter. Cover is a waterproof heavy canvas.

---
Canoe camp, Rabbit island, lake Temagami
Cooking fire and Food of the summer 2003

---
Lean-to as travel (nomadic) camp on a small lake in Temagami
Heat wave of summer 2003 was spent there.

---
Small 6 foot Tipi, fully nomadic camp in Kokoko (Owl) bay of lake Temagami
Made from 9 cedar poles 10 feet long.
Tipi covered by tarp and tarp over table End of summer and fall of 2003 flew by there.

---
A-Frame at canoe camp Wanapitei, Temagami
Winter 2003 was made possible by kind permission of the Camp to stay in the A-Frame.
It is known for candles being lit by themselves, windows opening and strange vivid dreams and unusual creatures painted on its walls.
---
Trans-siberian and traditional nomadic dwelling of Central Asia adapted for living in boreal forests of near north in Canada.


About 14 feet ( 4 m ) in diameter, 7 (2.3m) feet tall.
Double walls of Super-6 plastic, birch-bark on roof for extra insulation and tarp to protect plastic from UV. Insulated for winter from the inside with sheets of Reflectix.
Particle boards and slabs of rocks make the floor, woodstove is in the middle. Can accomodate two people.
It was built in 2004 as a hunting and fishing camp for friends from Temagami First Nation (TFN), located in the north end of Temagami lake. Over few months it was visited by many, including MNR (Land Police - Ministry of Natural Resources) officers.
"With Bear island people' camp we have no problems", MNR officers said while visiting Camp in February 2005. So be it.

---
Choom II - Makinak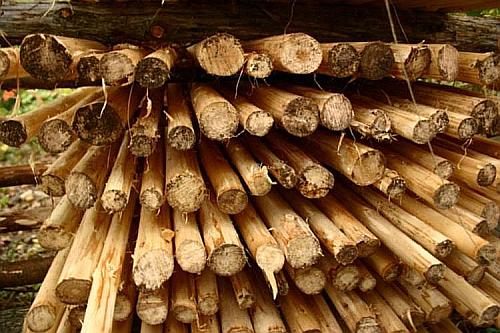 Mobile and lightweight all-season spacious low-tech neo-nomadic dwelling for living in boreal forests of near north in Canada and anywhere else.
MAKINAK - a TURTLE, who can take its home anywhere.

21 feet ( 7m ) in diameter, 9 (3m) feet tall.



A Wigwam That Has Evolved.
---
Neodim Kollobok. Temagami, 2002-2005
Last updated in April of 2005